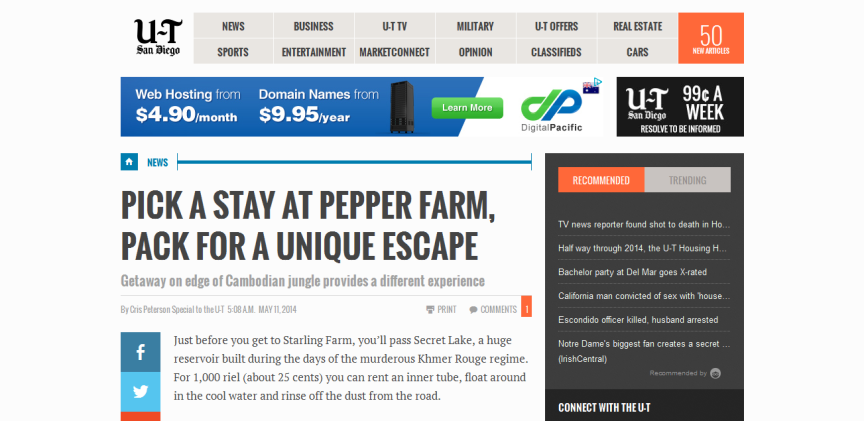 Getaway on edge of Cambodian jungle provides a different experience
UT San Diego – May 11, 2014 – By Cris Peterson
---
Kampot, Cambodia — Nestled at the base of jungle-covered mountains and surrounded by emerald-green pepper vines and fruit orchards, Starling Farm is a hidden oasis. It's the perfect way to escape the craziness of Cambodia's capital of Phnom Penh and the tourist hordes in Siem Reap.
Starling Farm's primary purpose is producing prized Kampot peppercorns, but now farm owner Him Anna has opened Starling Ridge, a quiet getaway that features a large family villa built in traditional Cambodian style and six stone or wooden bungalows.
The farm stay
If you want something really different, visit in March during the harvest. Guests are invited to cut clusters of peppers from the 15-foot-high vines and help sort and dry them alongside dozens of Cambodian farmworkers. After a day in the pepper field, ask the chef at the Starling Ridge restaurant to cook up a stir fry or famous Kampot pepper crab with fresh green peppercorns.
Of course, you don't have to work.
"A stay at the farm is really unique," says Anna. "You can do absolutely nothing and enjoy the surroundings at the restaurant. But you can also go trekking through the hills or enjoy a bike ride to the Crab Market in Kep, and so on."
The villa and bungalows are built in traditional style. Open the windows at night and the cool breezes blow through. The dark wood gives a feel of complete luxury. There's a modern kitchen, a whirlpool tub and a secluded outdoor shower on the edge of the jungle.
The restaurant features Western dishes — such as grilled cheese sandwiches and hamburgers — as well as an array of Cambodian specialties. Cambodian food is known for its freshness, and many of the ingredients are organically grown on the farm. The seafood is brought in fresh from the nearby Gulf of Thailand.
The chef welcomes guests to his kitchen and is more than happy to cook up special requests. Soon, Cambodian cooking classes will be offered.
Let's be honest: Cambodia is hot — darn hot and really humid. After a day of hiking or mountain biking, a dip in the two-tiered infinity pool is most welcome.
Getting there
From Phnom Penh, grab a bus ($6 for a four-hour trip) or hire a private car (about $70 depending on your bargaining skills) to Kep or Kampot. A motorbike with a trailer — called a tuk tuk — will take you to Starling Farm. The driver will know how to get there.
Just before you get to Starling Farm, you'll pass Secret Lake, a huge reservoir built during the days of the murderous Khmer Rouge regime. For 1,000 riel (about 25 cents) you can rent an inner tube, float around in the cool water and rinse off the dust from the road.
A little history
The province of Kampot is in southwest Cambodia, not far from the border with Vietnam. It is known for its pepper, sea salt and seafood.
Kampot pepper was first noted by Chinese explorers in the 13th century and was prized by European chefs when Cambodia was part of French Indochina.
In the 1970s, pepper production came to a sudden halt when the Khmer Rouge came to power and relocated the farmers. Many died along with up to 2 million other Cambodians.
The Khmer Rouge's reign of terror touched everyone in Cambodia. Farm owner Anna was born in a forced-labor camp. Her father and uncle were killed by the Khmer Rouge.
When the Khmer Rouge were ousted and civil war subsided, the farmers who survived returned to Kampot and started growing pepper again.
Kampot pepper
Starling Farm now has about 6,000 vines. It's the largest producer of pepper in Cambodia. Certified organic, the pepper is often eaten fresh in Cambodia. Black, red and white pepper is dried for export.
The farm also produces mangoes, herbs and durian, a pungent fruit known all over Southeast Asia. Anna has planted several dozen avocado trees as well.
"Kampot pepper is a product Cambodia is truly proud of," says Anna. "And we believe Kampot pepper will be famous again worldwide."
---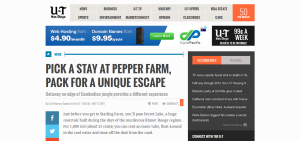 Read the original article on the UT San Diego website:
http://www.utsandiego.com/news/2014/may/11/tp-pick-a-stay-at-pepper-farm-pack-for-a-unique/