THE KAMPOT PEPPER
Kampot Pepper takes its name from the province of Kampot, ideally located between the sea and the mountains on Cambodia's south western coastline. Regarded as the King of Peppers due to its complex yet elegant flavours and opulent aroma, the Kampot peppercorns are famed around the world, and like a true Champagne, can only be grown in one region. This unique land, with its mineral-rich soil and rainy weather in the high-elevation areas are perfect for pepper production.
LEARN MORE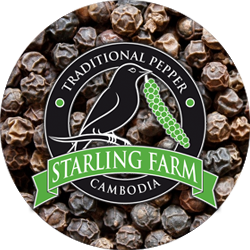 Starling Farm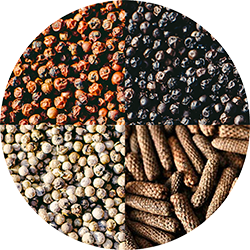 Kampot Pepper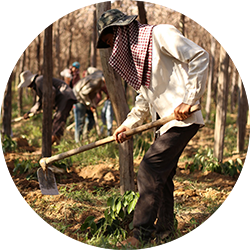 Production & Processing
Growing Pepper
Pepper Harvesting
Drying, Sorting & Processing
TYPES OF PEPPER
OUR FAVOURITE PRODUCTS
KITCHEN & TABLEWARE
100% Handmade
Our pepper is picked, sorted and processed by hand, to provide the best quality, both as regards the care taken with harvesting and the more gentle treatment of the pepper vines. More than a simple product, our pepper is the fruit of a delicate and respectful work and generations of history and tradition.
100% Organic
We are growing our pepper without using any pesticides or chemical fertilizers, working to the highest organic standards. And as such, we are certified by the Cambodian Organic Agriculture Association and EcoCert.
100% Kampot Pepper
Even with a Protected Geographical Indication from Cambodian Government and European Union, there is still a lot of fake Kampot pepper on the market. Nothing is more safe than purchasing straight from a registered producer.
CERTIFICATIONS & ASSOCIATIONS