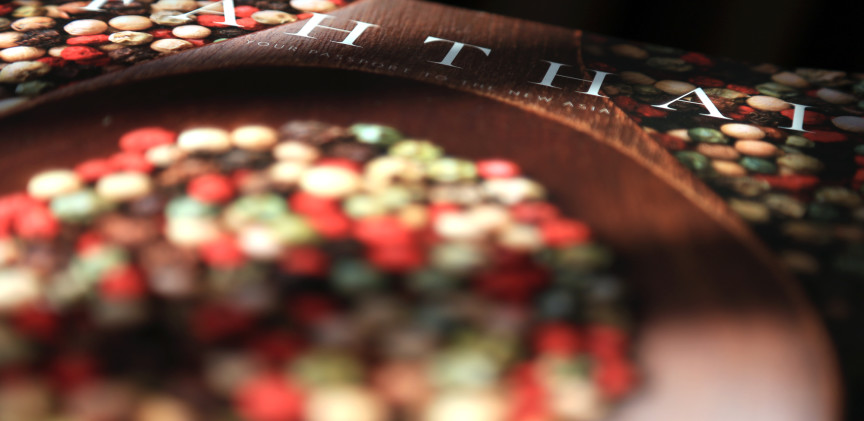 Bangkok Airways - Fah Thai Magazine
Bangkok Airways – Fah Thai Magazine 2014
---
In culinary circles, Cambodian Kampot pepper has supplanted Himalayan rock salt as the condiment du jour. Just over a decade after the pepper industry's post-Khmer Rouge resurrection, this dark, potent, slightly floral spice is catching on around the world.
Words by Robert Carry
Photography b Thomas Cristofoletti
It was a Chinese emissary visiting the ancient Khmer Kingdom in 1296 who first documented pepper production in Cambodia. And it was the French who traded on its strong, floral quality. By the turn of the 20th century they were shipping Cambodian – or more specifically, Kampot – "black gold" to Europe by the tonne. In the colonial power's finest restaurants, Cambodia's high-grade spice was considered a must-have. France remained in the grip of pepper fever after independence, and by the 1960s it was exporting about 100,000 tonnes per year.
Then, almost overnight, Cambodian pepper vanished. In 1975, the communist Khmer Rouge swept across the country, emptying cities and pressing virtually the entire population into servitude on collectivised rice farms. Rice was traded for weapons with China and nationwide, orders went out that yields were to be maximised at all costs. This left little room for luxuries like pepper, and Kampot's spice fields were torn up and cut into rice paddies. The ancient spice that had earned global renown disappeared.
Kampot native Anna Him was born during the Khmer Rouge era. In the years before the regime, her father and uncle had worked as helicopter mechanics, which was considered a bourgeois occupation. When the party came to power, her entire family was pressed into forced labour on the rice farms. Anna's mother was worked almost to death; her father and uncle didn't survive the regime.
With the dissolution of the Khmer Rouge in the late 1990s, Anna became a key figure in the regeneration of the Kampot region – using pepper as her tool. "The Khmer Rouge totally destroyed all Kampot pepper production," Anna says. "The land had been taken over by the jungle. But when we were clearing the land [in 2002], we found some pepper plants growing in the wild."
Armed with little more than a handful of seeds from these wild plants, Anna and the region's few surviving pepper farmers set out to resurrect their country's storied crop. Anna and the other small producers formed the Kampot Pepper Farmers' Association (KPFA) to share and safeguard the knowledge and skills associated with pepper farming. As production ramped up, the world slowly rediscovered the taste that had made Kampot pepper famous.
"In the first few years, I only sold a few hundred kilos but now this has increased to up to six tonnes," says Anna, now CEO of Starling Farm – the region's biggest pepper producer. Anna's business expanded rapidly and with demand soaring, she opened three shops selling her products in her native Kampot as well as Phnom Penh and Siem Reap.
Her efforts received a major boost when Kampot pepper became the first Cambodian product to enjoy the European Union's protected geographical status, an initiative designed to certify the origin of regional foods. Under the terms of the certification, the pepper must be produced as it always has been – organically, without the use of artificial fertisilisers or non-traditional farming methods.
Demand for the pepper is on the rise, and Kampot's farms are expanding in an attempt to meet it. The space devoted to the crop has more than doubled to 41 hectares since 2012, yet demand continues to outstrip supply. As a result, prices are shooting up: black peppercorns went from US$8/kg in 2012 to US$11 last year. "Demand is too high," Anna says. "We keep getting inquiries for quantities that we could never supply." As a result, Starling Farm is planning to boost its production from six tonnes in 2014 to 20 tonnes in just five years.
"It has a woodsy, almost fruity taste that delivers some heat… Once you try Kampot pepper, it's tough to go back… the flavour is out of this world"
Beyond its mystique and fascinating history, the flavour of Kampot pepper is what adherents credit for its widespread appeal. "It has a woodsy, almost fruity taste that delivers some heat," says Tom Gordon, co-founder of The Pepper Project (pepperproject.org), a non-profit group that sells Kampot pepper on behalf of small Cambodian producers to buyers in the US and elsewhere. "Once you try Kampot pepper, it's tough to go back… the flavour is out of this world."
There are four pepper varieties produced in Kampot: red, black, white and green. Green pepper, known for its delicate citrus taste, is harvested when the peppercorns are still unripe and has a shelf life of just four days. For this reason, it can only be enjoyed at its best in Cambodia. Black pepper, the best-known variety, has a depper, stronger and vaguely floral flavour with elements of eucalyptus and mint. Red peppercorns, meanwhile, are fully ripened seeds. They're sweeter and less spicy than the black variety. White pepper is created by soaking red peppercorns in hot water, then removing the skin.
The spice is grown only in a few districts clustered between the mountain and the sea in Kampot province – areas known for mineral-rich soil, salt-heavy air and high rainfall.
Because red and white pepper are more difficult to produce, only a few hundred kilogrammes are made available each year.
Anna believes Kampot pepper's unique taste owes a lot to its place of origin. The spice is grown only in a few districts clustered between the mountains and the sea in Kampot province – areas that are known for their mineral-rich soil, salt-heavy air and high rainfall. Caves in the nearby mountains are home to millions of bats, whose guano is mixed with cow dung to make an unusual – and highly effective – natural fertiliser.
Assuming that Kampot's pepper producers can meet demand while maintaining their uncompromising approach to farming, the future looks bright for the region's famed spice. When Starling Farm began in 2002 there were only a dozen families farming pepper; these days there are about 126 families and counting. Staring Farm alone employs 40 full-timers and brings about 30 seasonal workers on board at harvest time. "We have peace and we're happy about it," farmer Em Han says. "Now we can work. Now we can make a living."
---
 Read the original article on board Bangkok Airways in their Fah Thai inflight magazine.