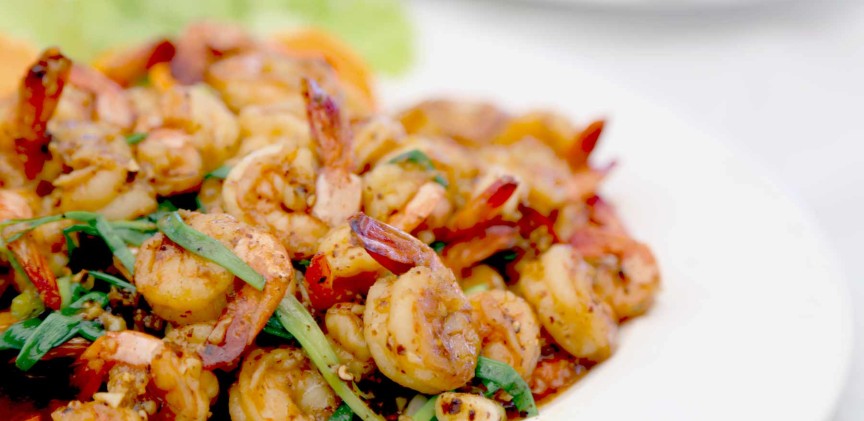 Delicious prawns inspired by a local Kampot delicacy.
This recipe is a great starter, the deep peppery notes compliment the seafood well. You can use this recipe to cook soft shell crabs in much the same way as the prawns. This may be a little messy to eat if you use prawns with their shells on.
How to make black pepper prawns
Ingredients
20 large prawns (5 per portion)
To make the sauce you can either buy the Kampot black pepper sauce mix from Starling Farm. This way you don't have to worry about getting the measurements right.
1 pack of Kampot pepper sauce mix
or
If you aren't using the Kampot black pepper sauce mix from Starling Farm then you can blend the following flavours together in a mortar and pestle.
1 tbsp Black pepper
1 tsp sea salt
Around 10g of Palm sugar (small piece)
1 Lime
Instructions
Zest and juice your lime.
Mix the lime juice and zest in with the Kampot pepper sauce mix to make a paste to cover your prawns.
Alternatively, in a mortar and pestle, grind the black peppercorns, sea salt and palm sugar. Add the lime zest and juice and mix together to form a paste.
Coat the prawns in the black pepper sauce and leave the in the frigde overnight for the most intense flavour.
You can cook the prawns right away or after marinating for a little while.
Once marinated and coated, grill the prawns until cooked. The cooking time depends on the size of your prawns.
Test to see if the prawns are cooked by gently squeezing and testing to see how firm they are.
Once cooked through serve the prawns immediately.
These prawns go well with salad, vegetables and cous cous.
Copyright 2014 Starling Farm - Bright Starling Holdings Co., Ltd. - Cambodia